English in between
Hösten är, för oss som bor på lantgård, en aktiv tid då årets mödor skall tas tillvara inför den årstid då vårt klimat här uppe i "den kalla nord" inte tillåter odling. Årets vedermödor har inte gett så stor utdelning, dels på grund av de glupska sniglarnas framfart, dels beroende på vårt arbete med huset som tar tiden från andra väsentligheter. Sniglarna har dock inte rått på vår växthusodling där tomater, kryddor och paprika gett skördar som räckt till att fylla frys och skafferi.
Tomater har blivit till tomatkross och också till ketchup. Det är ett tag sedan som jag gjorde ketchup senast. I årets variant blev det mestadelen gula tomater av en mycket god sort som också gillat klimatet i vårt ena växthus. En viss inblandning av röda bifftomater blev det också. Resultatet blev gott, något starkare än köpt och med mindre inblandning av socker. Den är nu fylld på flaskor för användning i vår mat under den kommande kalla årstiden.
Autumn  (fall)  is the time when the growth this year will be taken care of to save it for winter. This harvest will not be the biggest one to some part due to the snails but also because we have been working with our house and that takes an awful lot of time. The snails have not been abel to destroy our tomato cultivation, our spices or our peppers and we can fill our freezer and the pantry.
We have made crushed tomatoes and tomato ketchup. It's been a while since last time I made ketchup. The variant of this year is mostly of very tasty yellow tomatoes with some red beef tomatoes. I like the outcome, a bit stronger flavour than the one you can buy and a lot less sugar.The ketchup is now in bottles and is going to be used in our food the coming cold part of the year.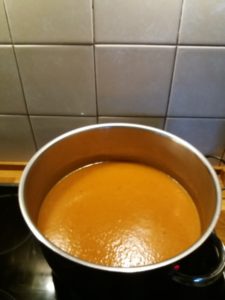 De färdiga flaskorna förvaras sedan i källaren tills de skall användas och med sin smak påminna om höstskörden.
The bottles will be stored in our cellar to time comes and they will  be used and with it's flavour remind us of the autumn harvest.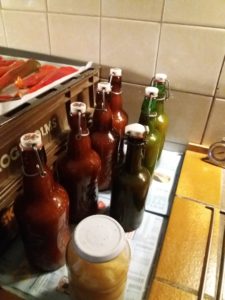 Förutom tomater har vi skördat paprika. Vi har odlat den långsmala paprikan som passar till att göra egen Ajvar Relish eller paprikaröra. Det blev två varianter, dels en med paprika, chili, olivolja, peppar och salt och dels en som förutom paprika också hade aubergine, lök, vinäger och honung i. Den med aubergine blev mer tafatt i smaken än den utan. Jag föredrar den utan.
In addition to tomatoes we have also harvested peppers. We have grown the long pepper suitable for making our own Ajvar Relish  or pepper sauce. There were two variants, one with peppers, chili, olive oil, pepper and salt and one that, apart from peppers also had eggplant, onion, vinegar and honey. The one with eggplant was more insipid in flavor than it without.  I prefer it without eggplant.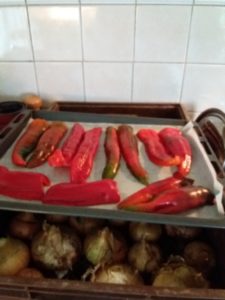 Det som syns under paprikorna är gul lök som snart skall förvaras i rotfruktspåsar och hängas upp för förvaring. Lökskörden gav många och ganska stora lökar. Vi gör åt en hel del så egenodlad lök, som odlats med enbart naturlig gödsel från våra egna får, är gott att ha i källaren.
Under the peppers you can see onions that is soon to be stored in vegetable bags and be hanged from the ceiling. The onion harvest gave us many and rather big onions. We use a great deal and onions grown with only natural manure from our sheeps is good to have in the cellar.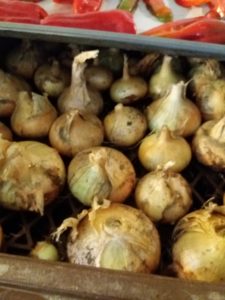 Planeringen inför nästa år har kommit igång. Vi har skaffat vitlök, som skall sättas i en av våra odlingslådor, för tillväxt och skörd nästa år. De fick sällskap av några blomsterlökar som skall få sin plats utanför ateljén och förhoppningsvis kunna glädja oss under vår och försommar under kommande år.
Planning for next year is in progress. We have bought garlic seed, to be put down in one of our cultivation boxes to grow and to harvest next year. We also bought some flower bulbs to plant outside my studio to grow and give us pleasure during spring and early summer for years to come.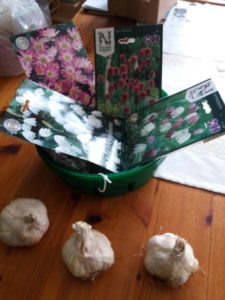 Alldeles in på knuten fanns några trattkantareller som torkades för framtida bruk. Något som också fick följa med in var några få färgsvampar, rödskivig spindling, för få att färga med idag men de lades till samlingen för framtida bruk.
Close to our house I found some autumn chantarelle good to dry and use in sauce. I also found some mushroom to use for dyeing yarn. Too few to use at once, but I took them to dry and save for the future.