English in between
Efter ett antal dagar med två företagsbokslut och på det deklarationer, var min hjärna mer än lovligt tilltufsad. Igår eftermiddag var det äntligen klart och inskickat och hjärnan återtog lite av sin forna volym.
Idag har jag gått och beundrat naturens händelser under mina dagar i isolering, mental sådan i alla fall. Bland annat den fantastiska Forsythiabusken som prunkar av gula blommor som mängder av små solar.
After several days with two business accounts and income tax declarations,  my brain was more than a little scruffy. Yesterday afternoon, it was finally done and submitted and brain regained some of its former volume.
Today I has been outside and admired nature's events during my days in isolation, mental such in all cases. Among other things the fantastic Forsythia x intermedia who flaunts the yellow flowers like lots of little suns.
I mitt nya alerta tillstånd blev det också en promenad till åkern, där husbon'n som bäst höll på att harva. Baken på traktorn kunde knappast ses i dammolnet bakom. På den åkern skall det sås ny vall till bete. Fröna har bara väntat på att jorden skall reda sig så att vårbruket kan starta. Vi hoppas på massor av hö och ett bra efterbete.
In my new alert condition   I also went to the field where hubby harrows. A large cloud of dust behind the tractor made ​​it almost invisible.On the field it must be sown new grass for grazing. The seeds are just waiting for the earth to be ready so  spring planting can start. We hope for lots of hay and  nice grazing after harvest.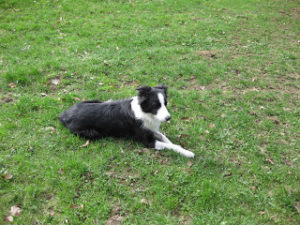 Ikväll skall jag läsa den nykomna Vävmagasinet och kanske ta en titt på Rita Buchanans DVD " How I Spin"som äntligen hittat hit från USA. Nästan åtta veckors leveranstid!!! Hoppas den är lika bra som  Deb Robson's. "Handspinning Rare Wools"
Tonight I plan to read Vävmagasinet – Scandinavian Weaving Magazine and maybe take a glance at Rita Buchanan DVD "How I Spin. After eight weeks it's finally here!!! I hope I'll like it as much as the DVD  made by Deb Robson "Handspinning Rare Wools.