English in between
Klart – eller i alla fall nästan. Nu återstår att laga trådbrott, fästa in nya trådar och slutligen att valka tyget.
Vävningen har inte tagit så lång tid. Lång tid har det ju gått men effektiv tid, inklusive spolning av inslagsgarn mm, har varit ca 24 timmar. Nedklippt är väven 10,1 m vilket stämmer med beräknad vävlängd.
Clear – or at least almost. It now remains to fix broken threads, attach the new threads and finally to felt fabric. 
The weaving has not taken so long. Long time has indeed gone but effective time, including bobbining  yarn, etc., have been about 24 hours. Cut down fabric is 11,1 yard which is in line with estimated length..
Numera är jag en erfarenhet rikare av att spinna och väva av entrådigt, handspunnet varpgarn och inslagsgarn.Med min tidigare erfarenhet av att väva med entrådigt maskinspunnet varpgarn kan jag konstatera att trådbrotten inte är fler men vävens yta är mer levande både färg- och strukturmässigt.
Now I am an experience richer by the spinning and weaving of hand-spun singles in both warp and weft.With my previous experience of weaving with machine spun singles for warp, I see that there is'nt more yarn breaks but the fabric surface is more vibrant in both color and texture.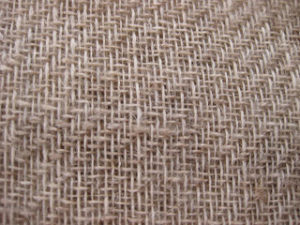 Ett nytt projekt, kanske med vävning av ett tweedtyg, kännns inte helt omöjligt men då ett tyg som inte skall valkas. Ullen är redan utsedd.Brun ull från en ryatacka som kommit upp i åren och har en fantastisk ull med blandning av brun bottenull och bruna och vita täckhår. Som alla äldre tackor är ullen betydligt grövre än hos yngre så jag ser framför mig arbete med mina ullkammar.
Ullkammarna har jag beskrivit i ett tidigare inslag i gamla bloggen och kan nu hittas i sidomenyn  "Ullkammar". Ett nytt par, minikammar är designade och på väg att förverkligas. Inspirationen den här gången kommer från videon med Debora Robson.
A new project, perhaps with the weaving of a tweed, seems not entirely impossible but then a fabric that is not felted. The wool is already chosen. Brown wool from an older  rya ewe that has a fantastic blend of wool with a brown undercoat and brown and white outercoat. Like all older ewes wool is considerably thicker than in younger ewes so I see before me work with my wool combs.
Wool combs I have described in an earlier part of the old blog. A new couples, mini-combs are designed and about to be realized. The inspiration this time comes from the video with Deborah Robson.
Annat som också väcker inspiration hos mig är de späda vårblommorna som börjar titta upp ur marken t ex dessa vitsippor, också kallade fagningsblommor, som växer i en av fårhagarna. Här i en gammal gräddkanna.
Another thing that makes me inspired is the delicate spring flowers growing up from the ground e.g.the wood anemones, in swedish also called spring-clean flowers, growing in one of the sheep pastures. I've put these in an old cream jug.