English in between
Funderingar är bra. Det får de grå att arbeta mer intensivt än vanligt. Ibland leder de till ett överlastat nattygsbord eller överbelamrat skall man kanske säga. Överbelamrat med böcker. Denna veckan har det varit spinnböcker. Vet ni att dessa väger kilon. I alla fall om man skall gå igenom många.
Det här med benämningar på företeelser inom spinnvärlden är inte lätt. Som facklitteraturälskare har jag roat mig med att gå igenom och titta på olika författares benämning på samma fenomen.
Den här gången gäller det vad man kallar det som inte är äkta kardgarn eller kamgarn, eller som Amos Alden säger "allt däremellan". Hans åsikt är att bara någon ynka procent kan kallas äkta kardgarn eller äkta kamgarn.
Många författare ger sken av att vara de som har de rätta svaren men vilket är då rätt?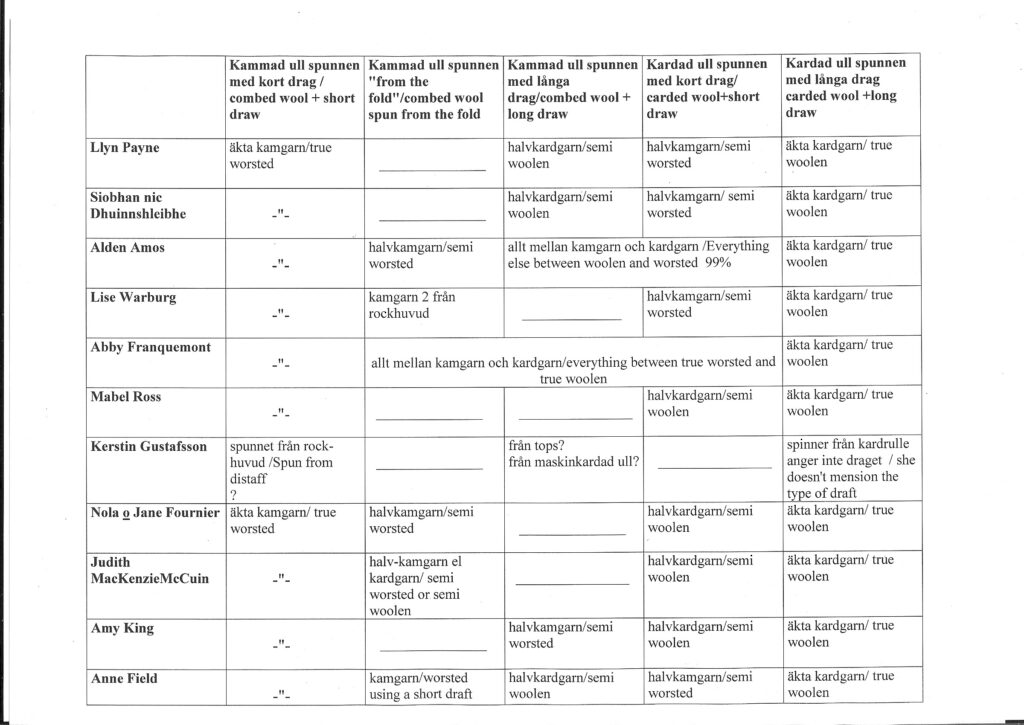 Att göra en lista är bra. Då kan man bilda sig en uppfattning och fatta sina egna beslut. Jag gillar listor och diagram.
Speculations are good. They makes the brain cells work more intensed than usual. Sometimes they even get you an overloaded bedside table. This week it's been loaded with books about handspinning. Did you know that books weighs plenty. That is if you have to read a lot of them.


When talking about names of handspinning phenomenons, it's not easy. As a non-fiction book lover I have amused myself looking through different authors words for the same thing.
This time it's about what you call a not true worsted or a not true woolen yarn, or as Alden Amos says "everyting between true worsted and true woolen yarn". According to Alden it's only some tiny percent of all yarn that can be named true woolen or true worsted.


Many authors clame the right to have the answers but what is the answer?
Making a list is good. It gives you a fair chance to decide what is best from your point of wiew. I like lists and diagrams.
När listorna begrundats återstår egna försök.
Även om man inte för tillfället har tillgång till den sorts ull man skulle vilja göra sina prover med så bara måste man prova. Ullen som fanns nära till hands var inte tvättad men vad gör det. Nya försök kan göras senare med tvättad ull.
Bilder gör försöken reala.
When one have reflected all that's left is to make own attempts.
Even if you can't find the right sorts of wool you want for your samples you have to try. The wool nearby wasn't washed but what the … You can always make another test with clean wool later on.
Photos make the trials more real.
Proverna till höger på bilden är spunna med kort drag från:
kammad ull
kammad ull spunnen "from the fold"(över knogen)
kardad ull rullad från kortsidan av kardan
kardad ull rullad från längsidan
The samples to the right at the photo are spun with a short draw from:
combed wool
combed wool spun from over the fold
carded wool rolled from short side of carder
a rolag

Proverna till vänster är spunna med långdrag;
5. kammad ull
6. kammad ull spunnen " from the fold"
7. kardad ull rullad från kortsidan av kardan
8. kardad ull rullad från långsidan
The samples to the left are spun with long draw
5. combed wool
6. combed wool from the fold
7. carded wool rolled from short side of carder
8. a rolag
Samtliga prover med kort drag blev betydligt slätare och mer kompakta än de spunna med långt drag. Kan man då säga att prov 3 och 4 är halvkamgarn?
Proverna 5 och 6 uppvisar en tydlig karaktär av kardgarn. Är de då att betrakta som halvkardgarn?
All samples spun with a short draw is more even and compact that those spun with a long draw. Can you name sample 3 and 4 semi worsted?
The samples 5 and 6 has a clear woolen nature. Can you say they are semi woolen?
Notera: Ojämnheter i garnet är helt beroende av spinnerskan och den otvättade ullen
Note: Irregularities in the yarn is fully due to the spinner and the unwashed wool. I'll make new samples using washed/scored wool to be able to compare my results.