English below
I samband med städningen av lilla vävrummet kom lusten till ett projekt bara för nöjes skull. Ingen vävstol ledig. Men vänta, vad är det som står gömd bakom en av de andra vävstolarna – ensam och glömd? Göta finns ju ledig! Var får jag plats med henne? Platsen blev bordsändan på vårt, mycket användbara, köksbord. Vi får helt enkelt flytta in ett steg om vi vill göra annat än arbeta vid bordet. Vid vårt köksbord, tillverkat av oss för mer än fyrtio år sedan, som genomlevt förändring av benen (enbart estetiskt), fått ny skiva då den gamla tagit stryk av tidigare arbete vid bordet och som använts under familjens skiftande storlek från sex till numera två personer, finns plats för både det ena och det andra.
En varp varpades och drogs på vävstolen, solvades och knöts fram. För att få vävstolen i maximalt trim byttes alla snören ut mot nya från Texsolv. KM var behjälplig med tillverkning av två nya trampor och ny trampinfästning för dessa och nu är också denna lilla vävstol mer användbar vid hastigt påkommen lust att göra något som inte ingått i planeringen.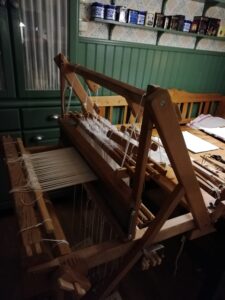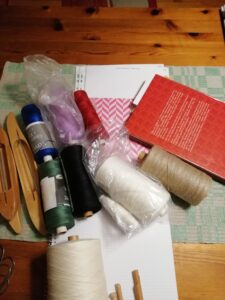 Till sist blev det provvävning. Passade på under tiden två nya surdegslimpor bakade i ugnen.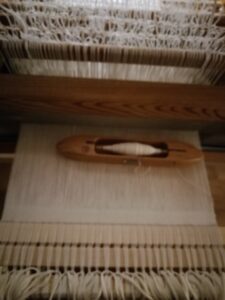 When cleaning the small weaving room, I got a desire for a project only for pleasure. No loom available. But wait, what is hidden behind one of the other looms – alone and forgotten? The Göta is free! Where can I place her? The place became the table end of our, very usable, kitchen table. We simply have to move one step if we want to do anything but work at the table. At our kitchen table, made by us more than forty years ago, which legs has undergone a change (only aesthetically), received a new table-top as the old one had some scratches from previous work at the table and used under the family's changing size, from six to now two people, there is room for various things.
A warp was made and wound on the back beam of the loom, every yarn end was threaded through a heddle eye and the reed and tied to the front beam. To get the loom in maximum trim, all the cords were replaced with new ones from Texsolv. KM assisted in the manufacture of two new treddles and a new attachment for these, and now this little loom is also more useful if I get an urgent desire to do something that is not included in the planning.
Finally I maid a test. Meanwhile, two new sourdough loaves baked in the oven.