English in between
Tiden går fort. Sommaren har passerat vilket känns inte minst på att vi har fått sätta på elementen i vår bostad. De har stått på 12 grader under hela perioden från maj till oktober, nu var det dags att höja några grader för att få ett drägligt inneklimat i den del vi vistas mest. Också våra odlingar behöver göras i ordning inför vintern. De sista tomaterna och paprikorna har skördats, kryddor har tagits tillvara och bönstänglarna har fått bli kvitt de senast mognade bönorna och ställningen för störbönor är numera enbart en ställning. Det enda som återstår är grönkål och persilja som får bli kvar på plats så länge som möjligt.
Time flies. The summer has passed, which feels not least that we have had to put on the elements in our home. They have been at 12 degrees Celsius throughout the period from May to October, now it was time to raise a few degrees to get a tolerable indoor climate in the part where we stay the most. Our crops also need to be prepared for the winter. The last tomatoes and peppers have been harvested, spices have been taken care of and the bean stalks have had to get rid of the last ripe beans and the stand for runnerbeans is now only a stand. The only thing left is kale and parsley, which must remain in place for as long as possible.
Efter att under ett antal år inte odlat potatis, har vi i år både odlat och skördat tillräckligt för vårt behov. En annan rotfrukt som inte heller har varit standard är jordärtskockor som av tre inköpta knölar gett tiofalt tillbaka. De har inte bara gett skörd utan dessutom varit dekorativa med sina gula blommor. I år har jordärtskockorna dessutom fått vara solskydd för våra två nysatta vinstockar, så kallade staketdruvor, som fått komplettera våra befintliga stockar. De gamla skall nu beskäras tillbaka kraftigt eftersom de i år tillåtits breda ut sig till glädje för allehanda fåglar som kunnat gömma sig i bladverket och kalasa på våra blå druvor. Vinstockarna har i höst också fått en helt fantastisk färg.
After not growing potatoes for a number of years, this year we have both grown and harvested enough for our needs. Another root fruit that has not been standard either, is Jerusalem artichokes, which have been given back tenfold by three purchased tubers. They have not only given a harvest but also been decorative with their yellow flowers. This year, the Jerusalem artichokes have also been given sun protection for our two newly planted vines, so-called fence grapes, which have been allowed to complement our existing vine plants. The old ones will now be cut back sharply because this year they have been allowed to spread to the delight of all kinds of birds that have been able to hide in the foliage and feast on our blue grapes. This autumn, the vines also got an absolutely fantastic color.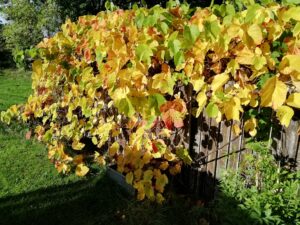 Att ta vara på skörden kan man göra på olika sätt, dels frysa in och förvara i frysbox, dels göra som i äldre tider, konservera i glas. Det senare sättet är mer praktiskt för vår del då vi i det gamla huset på gården har en matkällare där temperaturen inte ens under varmaste delen av sommaren överstiger 10 grader. I år, till skillnad mot föregående år, har vi dessutom fått en helt fantastisk skörd av äpplen på vårt gamla träd med Halländska Brunnsäpplen. Äpplen som transformerade numera står i burkar i källaren i form av äpplemos till morgongröten.
Taking care of the harvest can be done in different ways, partly frozen and stored in a freezer box, partly as in older times, preserved in glass. The latter way is more practical for us as we, in the old house on the farm, have a food cellar where the temperature does not exceed 10 degrees Celsius even during the hottest part of the summer. This year, unlike last year, we have also had an absolutely fantastic harvest of apples on our old tree with Halländska Brunnsäpplen ( "Halland" is a county in western Sweden and "Brunn" is a Well, approximately Apples growing at a Well in Halland). Apples that have transformed, now stand in jars in the cellar in the form of apple puree for the morning porridge.