English in between
Det är ett tag sedan som jag letade i mina gömmor efter garn att sticka tröjor av. De senaste åren har det varit handspunnet som gäller, men i mormors fars gamla kista finns en samling värd att använda.
Jag ansåg mig i stort behov av ytterligare en tröja, en senapsgul sådan. I mina gömmor visste jag att jag någonstans, någon gång hade köpt på mig ett lager av garn. Kunde det fortfarande finnas kvar?
För cirka 30 år sedan fanns, några mil från oss, en garnfirma med garn i riktig ull. Att betänka var att det var betydligt vanligare att då sticka i syntetgarner eller blandningar med syntet. Företaget i vår närhet var under avveckling på grund av dålig lönsamhet. Det här var tiden mellan två hantverksboomar. Alla satsade på personlig utveckling i stället för att lägga den dyrbara tiden på handarbete. Inför nedläggningen gick jag loss ordentligt och köpte flera kilo av Sandnes Fritidsgarn i 100% ull i olika nyanser av dämpade toner av senapsgul, tegel och rost. Vad har återigen blivit populärt om inte senapsgul, tegel och rost. Ett annat av mina fynd var Jacobsdals garn Mac Mohair i "senapsgult". Mina sparade garner kommer nu, efter mer än trettio år, väl till pass.
Första projektet blev en tröja i mohair. Tänk er ett mohairgarn bestående av 67 % mohair, 28 % ull och 5 % polyamid att jämföra med dagens mohairgarn från icke nämnd garnfirma där sammansättningen är 40 % acryl, 30 % mohair och 30 % polyamid. Tröjan blev luftig och passar bra under en tunnare jacka, att använda vid våra promenader på landet där vi bor. Modellen har växt fram ur mitt huvud med rätstickade kanter och muscher på oket som enda dekoration förutom träknapparna som husbon'n gjort.
It's been a while since I searched in my hiding places for yarn to knit sweaters from. In recent years, I have used my hand-spun yarn, but in Grandma's father's old coffin there is a collection worth using.
I felt in great need of another sweater, a mustard yellow one. In my hiding places I knew that sometimes I had bought myself a stock of yarn. Could it still be there?
About 30 years ago, a few miles from us, there was a yarn company with yarn in real wool. To consider was that it was much more common to then knit in man made yarns or mixtures with synthetic. The company in our vicinity was being wound up due to poor profitability. This was the time between two craft booms. Everyone invested in personal development instead of spending the precious time on needlework. Before the closure, I bought several kilos of Sandnes Fritidsgarn in 100% wool in different shades of muted tones of mustard yellow, brick and rust. What has become popular again if not mustard yellow, brick and rust. Another of my finds was Jacobsdal's yarn Mac Mohair also in "mustard yellow". My saved yarns now, after more than thirty years, come in handy.
The first project was a sweater in mohair. Imagine a mohair yarn consisting of 67% mohair, 28% wool and 5% polyamide to compare with today's mohair yarns from an unnamed yarn company where the composition is 40% acrylic, 30% mohair and 30% polyamide. The sweater became airy and fits well under a thinner jacket, during our walks in the country where we live. The model has grown out of my head with garter stitch edges and musches on the yoke as the only decoration besides wooden buttons made by hubby.
Nästa projekt är en tröja till husbon'n i Sandnes Fritidsgarn i rostfärg. Bakstycke och ftamstycke är stickade, Nu återstår ärmar och kragstånd. Husbon'n vill ha en tröja som liknar den jag stickade när sonen gick i fyran eller kanske var det femman och som användes under en lägervecka med sonens klass. Tröjan blev blöt under en roddtur, där kära maken "råkade" hamna i vattnet. Sagda tröja skulle sedan torkas i torkskåp på låg värme vilket husbon'n hade snappat upp av husmors information om ullprodukter. Inte visste han att klassens glada flickor hängde in sina kläder tätt, tätt i torkskåpet, vred upp värmen på full effekt och gick därifrån utan en tanke på husbon's älskade tröja. Tröjan blev sig aldrig lik igen och husbon'n har upprepade gånger, lyriskt omtalat denna tröja som under lägerveckan antog en ny, mycket mindre form och gick till de sälla jaktmarkerna dvs textilåtervinningen.
The next project is a sweater for hubby, in Sandnes Fritidsgarn, in rusty red color. Back and front are knitted, sleeves and a collar remains. Hubby wants a sweater that is similar to the one I knitted when our son was in middle scool and that hubby used during a camp week with our sons class. The sweater got wet during a rowing trip, where the dear husband "happened" to end up in the water. The said sweater would then be dried in a drying cabinet on low heat, which hubby had intercepted from the housewife's information about wool products. Little did he know that a bunch of happy girls, hung their clothes tightly, tightly in the drying cabinet, turned up the heat to full effect and left without a thought of hubby's beloved sweater. The sweater never became the same again and hubby has repeatedly, lyrically referred to this sweater which, during the camp week, assumed a new, much smaller form and went to the rare hunting grounds, ie the textile recycling.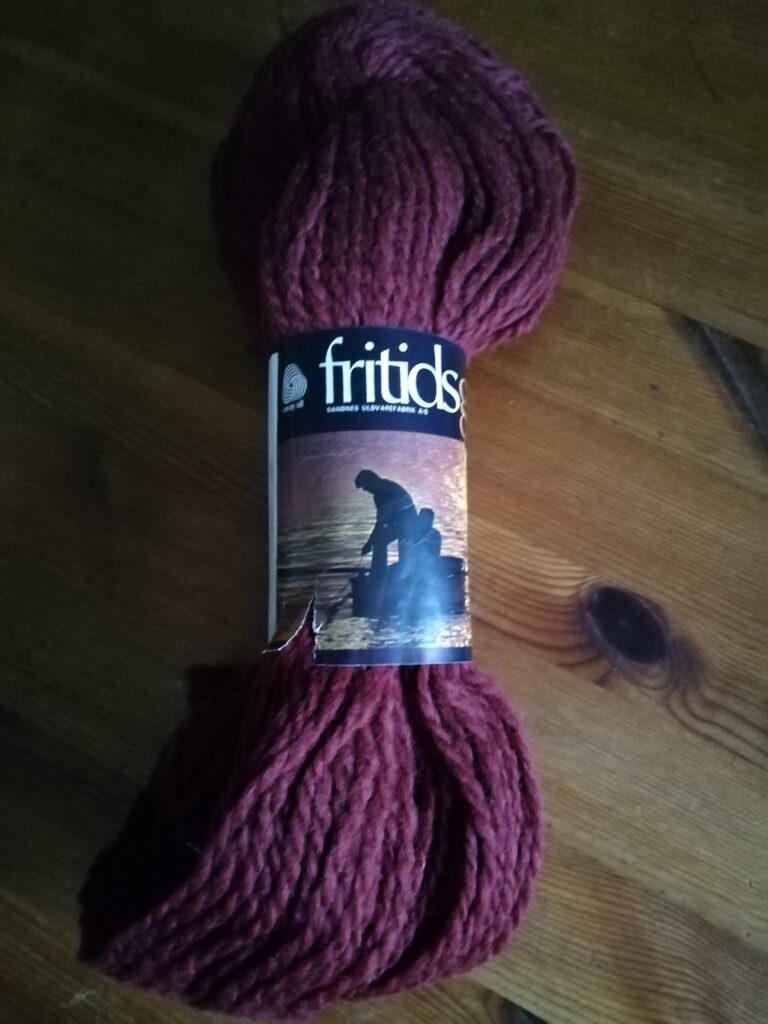 Eftersom ersättningtröjan inte kommit till presenterbart skick ännu, blir det en bild på garnet, det välsignade, som säkerligen var betydligt billigare än dagens motsvarighet och som klarat lagring så många år.
Since the replacement sweater has not yet reached a presentable condition, it will be a picture of the yarn, the blessed one, which was certainly significantly cheaper than today's equivalent and which has lasted storage for so many years.